SOLD!
Millers Falls Hand Drill No. 5 - ca. 1905 edition. Cocobolo handle.
Very smooth and well
tuned drill.
Restored:
Cleaned, striped, frame and main gear re-painted. Paint color is matched to the original as close as possible.
Wood on all handles cleaned. Cocobolo sanded and polished. Three coats of BLO applied and thoroughly dried. The final finish is six layers of Birchwood Casey Tru-Oil Gunstock Finish Liquid. It is probably one of the best high quality finish for exotic hard wood.
The side handle is made in domestic hardwood, stained with red mahogany and finished with polyurethane. It is in the shape of mushroom and it is detachable.
All exposed parts were polished to high gloss. Greased, oiled, tuned and checked. Great addition to your toolbox or collection. Lovely Tool!
---
RECENTLY SOLD
---
Millers Falls Hand Drill No. 2A -1957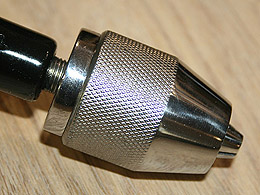 Exceptionally
smooth and
well tuned drill.
Reading about Millers Falls and Goodell-Pratt Hand Drills
Some emails I received recently...
---
Thank you so much for your incredible work on my drill. I received it last week, and have been admiring it ever since. It is such a beautiful piece of craftsmanship that my wife wants to display it! But it deserves the dignity of accomplishing the work for which it was painstakingly restored: drilling. So, I assure you that it will be put to careful, but good use.
Thank you again, Scott.
---
Hi,
I have what I think is a 5 1/2 Goodell-Pratt hand drill. I did some basic cleaning.
I bought it because it looked like a work of art. Here is the reality:
The main wood handle is great but is stripped of its threads. The 2 speed knob does not turn. The chuck springs are shot.
After seeing your work and especially the 5 1/2 you restored I would like you to restore mine. Can you give me a ball park price?
You responded to a thread I started on SMC a while back. Since then I caught the bug and now have about 10 drills. There is not many places around here to hunt for them so I have been keeping an eye on eBay. I do use them on occasion and find them, in some cases, better than grabbing a power or battery operated drill.
Thanks, Michael Hinkel
Apache Junction, AZ
---
Goodell-Pratt Hand Drill No 5.5
with Mahogany Handle – c. 1938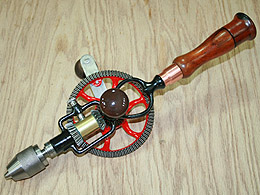 Millers Falls Hand Drill No 2 -
1938 edition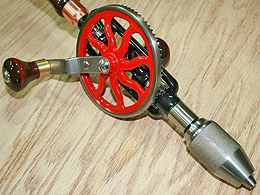 Goodell-Pratt Hand Drill No 5.5 B Toolsmiths - c. 1935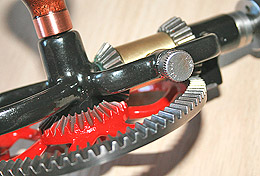 Millers Falls Hand Drill No 2 -1921. Cocobolo Handles!
Goodell-Pratt Hand Drill No 5.5
Toolsmiths - c. 1922
Millers Falls Hand Drill No 2 -1929.
Cocobolo Handles!